zur Übersicht
Coffee catering for private and corporate events
02.11.2021
Nothing beats a good cup of coffee. The coffee counter is the place for special events, especially at parties and events. The cracking of the coffee beans in your ears when they are freshly ground for you. The irresistible roasted aromas that get your nostrils swinging and just a few minutes later you have the artistic coffee creation in your hand. Whether for private celebrations or company events: With our coffee catering you will knock everyone off your feet. You can book the pretty mobile coffee houses for a wide variety of events, a few examples of which are 
• birthdays
• Weddings
• Measure
• Roadshows
• Events for customers and other business partners
• Promotion campaigns
•Company celebrations
• New openings
• Congresses
• Product presentations
Wir haben für jeden Anlass und für jedes Motto eine todschicke mobile Kaffeebar, die nicht nur ihren Zweck erfüllt, indem sie guten Kaffee serviert. Sie bietet Deinen Gästen Entertainment pur! Mit unserem mobilen Barista-Service kann Dein Event nur ein voller Erfolg werden. Wir zeigen Dir hier wieso.
Spotlight on relationship building with our modern coffee wheel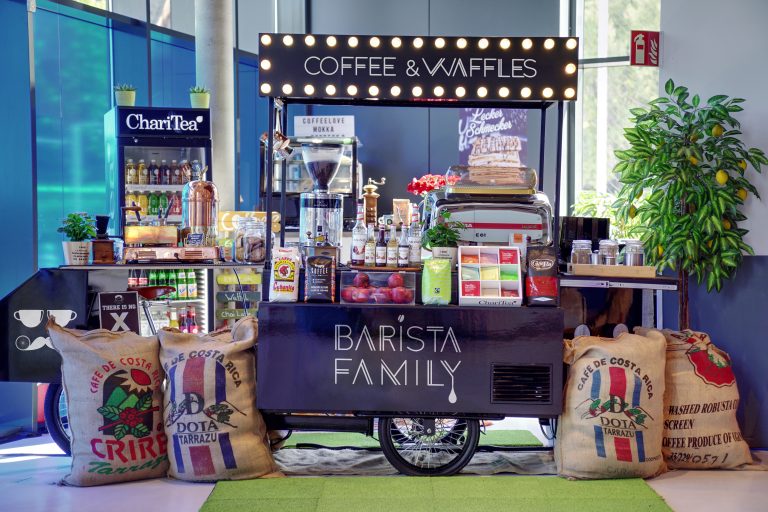 Coffee wheel
Who can say no to a coffee at this stylish counter? Your guests can already tell from the choice of your coffee catering that you know what's hot. The coffee counter is just as trendy as you are.
The One and Only for all classic car lovers: our coffee mobile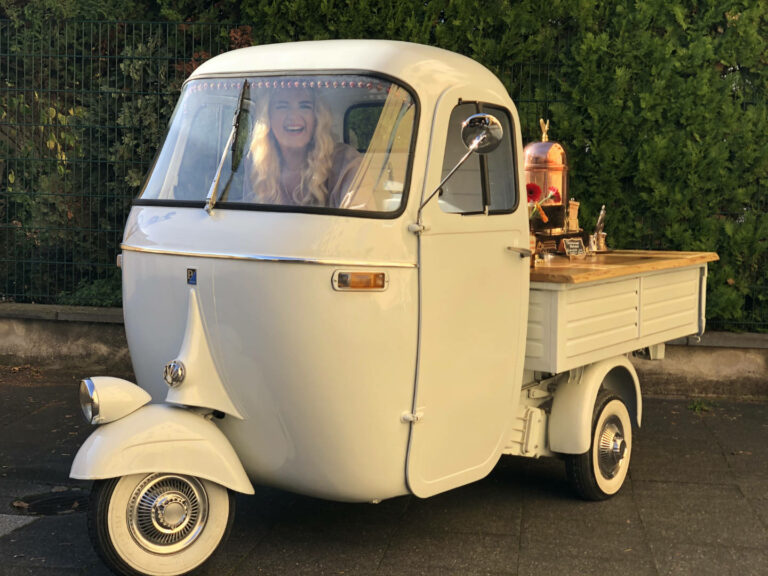 That has style! Pamper your guests at this sweet coffee counter with their favorite hot drinks and they will love you for it. Our mobile coffee machine and the coffee wheel are fully equipped to prepare any coffee variation your heart desires. We also bring all the necessary utensils such as coffee cups to your event so that you don't have to worry about anything.
Ambitious baristas with their hearts in the right place: We are the Barista Family!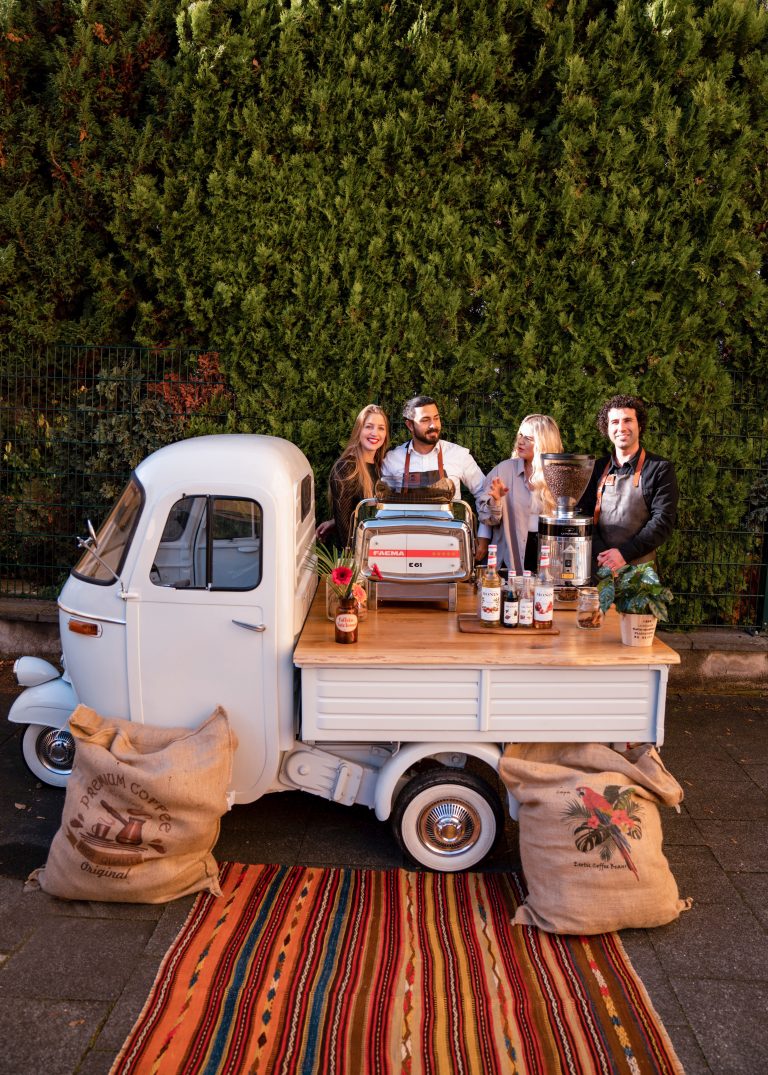 Our barista team will not only win the hearts of your guests with their warm and humorous manner. With our professional baristas, every move is perfect. Coffee is a matter close to our hearts, which is why every cup becomes a real experience.
The eye-catcher at your event - our specialty of the car
Have you ever made your coffee on hot sand? Then it's high time to watch the spectacle live. We also prepare our Turkish mocha very traditionally for mobile coffee catering. No wonder this method is a UNESCO World Heritage Site. The Turkish coffee is frothed in hot sand. Your guests won't get enough of it! Would you like to know where you can see us live in action next? Just write us a message using our contact form or call us on 0151 588 54 922.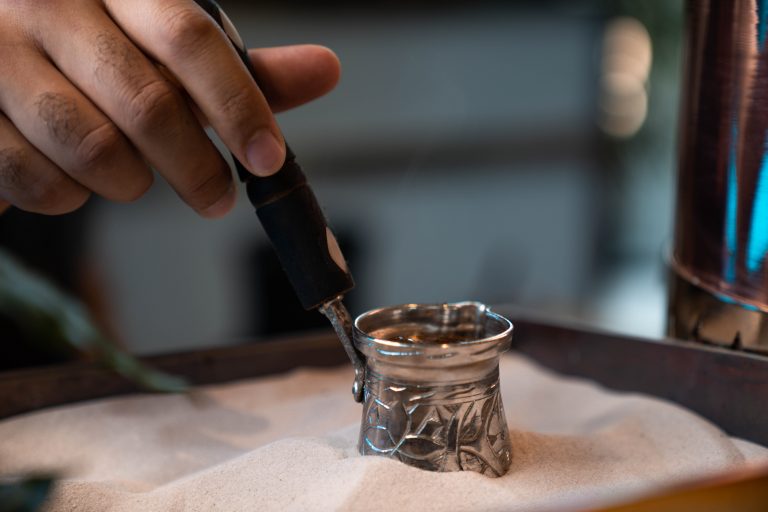 Diverse event catering: from classic espresso to chai latte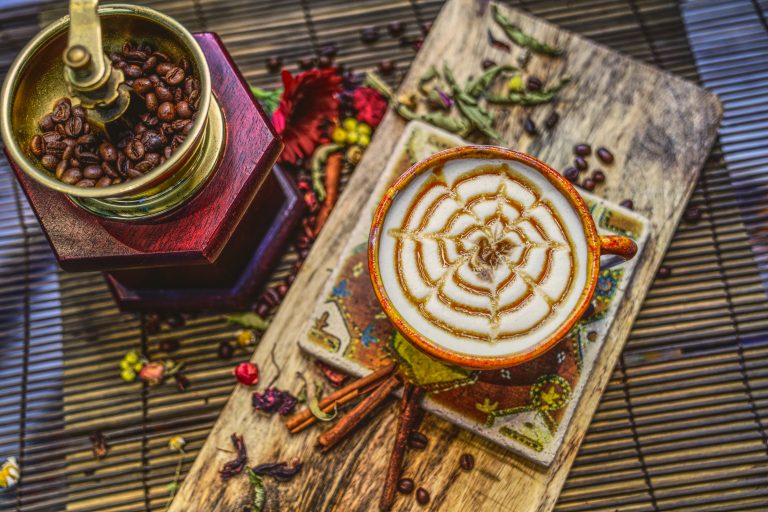 In addition to our highlight, the Turkish mocha, our baristas conjure up every coffee drink your heart desires. Starting with the classics espresso and cappuccino to chai latte and caramel macchiato to flat white: we leave nothing to be desired. Does your party take place in summer? The caffeinated cooling is also taken care of. We pamper you and your guests with cold brew, Caffé Freddo Frappé & Co. Take a look at the delicious barista family coffee world.
Passion that you can see and taste
A barista doesn't just make coffee. He puts all his dedication into every single cup. You can see it and taste it too. On the one hand, this requires craftsmanship that can only be learned from the best. Creativity is also required. That is the big challenge, because it is in you or not. This combination of professional craftsmanship and sparkling creativity distinguishes our barista team. For us, coffee is not a means to an end, but a passion that allows us to combine tradition with modernity.
Sip and snack until the last guest has left the location

Enjoyment knows no bounds. In addition to the coffee specialties that delight the taste buds and eyes, we provide you with delicacies for every taste. We cater for you and your guests with hearty snacks such as tomato-mozzarella-panini and salmon bagels as well as desserts to melt away.
If you have specific ideas about allergens, just talk to us. We coordinate the ingredients individually with you.
This is what we stand for: best quality with a view of tomorrow's world
When choosing our roast, we don't just look for quality seals. We also deliberately choose partners who value fair and sustainable coffee cultivation
More than coffee catering: a solid partnership with the Barista Family
We work with various companies and shopping centers to make every gathering among colleagues and every day of shopping a unique experience.
If you too would like to integrate our mobile coffee catering as a permanent element in your team building, we look forward to working with you in the long term. Talk to us directly! We create the right coffee concept for you and come to your company at the agreed times.
Well, did you feel like making your next event an unforgettable one with our help, or starting a long-term partnership with us?
We look forward to your message: